A World-Class Entertainment Destination
Chicago's 21st Century Neighborhood continues to evolve as an architectural expression of inclusivity, connectivity and resilience. We envision a vibrant and dynamic Entertainment District with the Casino at its core. This compelling destination will leverage the best of Chicago's entertainment and culinary heritage with new and unmatched experiences for residents and visitors alike.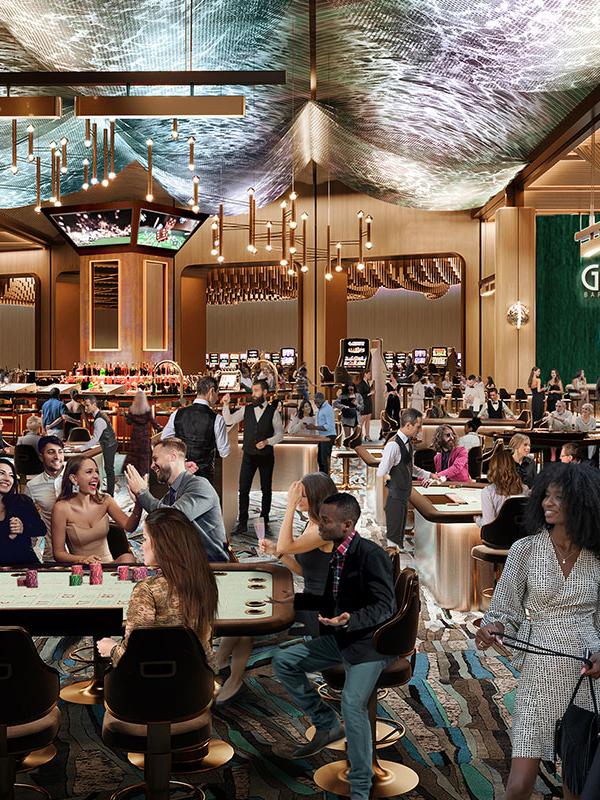 Rivers Casino
The Entertainment District will be anchored by the more-than 450,000 sq. ft. Rivers Casino at The 78, and will feature 3,300 IGB-defined gaming positions, an extraordinary Sportsbook and dazzling event space. We have assembled Chicago's most iconic restaurateurs, local, up-and-coming minority- and women-owned food concepts, and a reborn Mister Kelly's nightclub to provide an unrivaled food and beverage program — all in one unforgettable setting.
Riverfront
A continuation of the Chicago Riverwalk, the riverfront is a key element of the Entertainment District. Here, an iconic plaza will provide a flexible, open space that can be reconfigured and activated throughout the year. A new riverside marina will welcome river tours, water taxis and private docking for recreational watercraft. Landscaped pathways will connect these waterfront features to an indoor/outdoor music venue and supporting restaurants.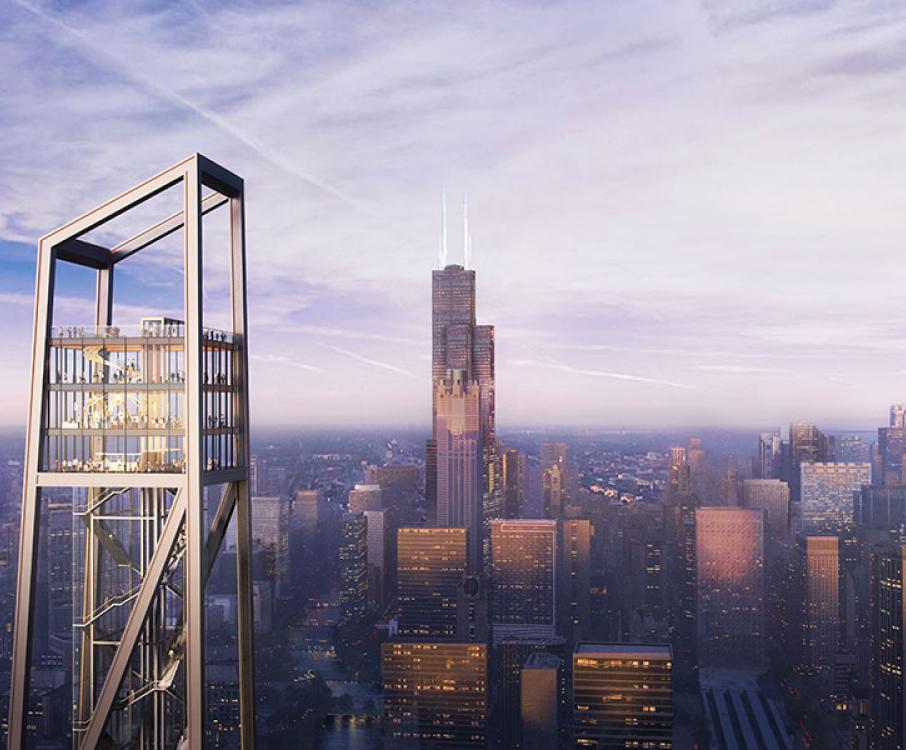 Observation Tower
At more than 1,000-foot tall, the Observation Tower will define the sky over the Riverwalk Plaza — an astonishing lookout offering a unique perspective on our skyline, and Lake Michigan beyond. More than a tourist attraction, the tower will become an educational resource for future generations of Chicago's children. Its design recalls the St. Charles Air Line Bridge (just south of The 78) — a commemoration of The 78's historic past, and a heroic gesture to the advancement of architecture in our city.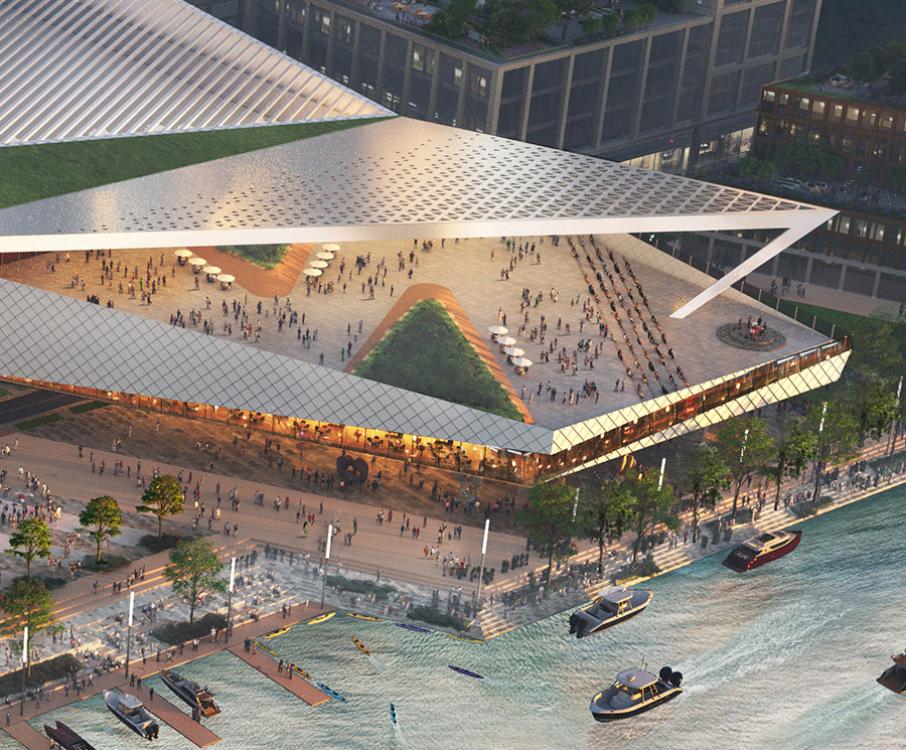 Harbor Hall
Harbor Hall is an animated venue that serves as an adaptable multi-purpose hub for community engagement. With ample dedicated space for large meetings, live entertainment performances, specialized programming and corporate social events.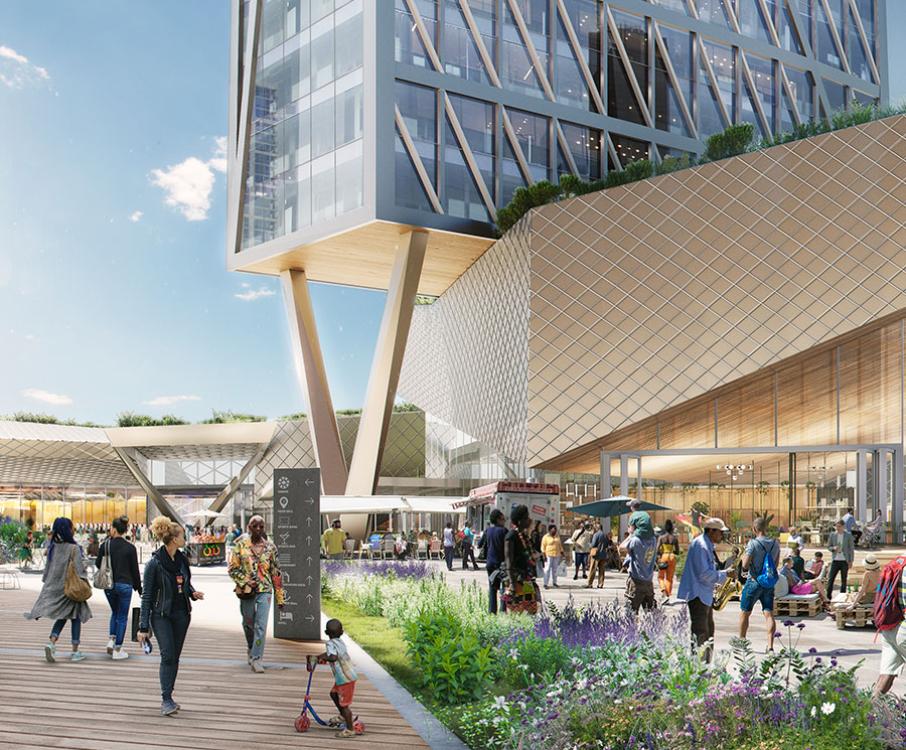 Gateway Plaza
At Clark and Roosevelt, the newly-imagined Gateway Plaza is a 'Grand Welcome' to the Entertainment District, with access to the new hotel (and its public-facing lobby, restaurants, lounges and shops). The landscaped promenade ushers visitors through expansive open public space to the northeast Casino entrance.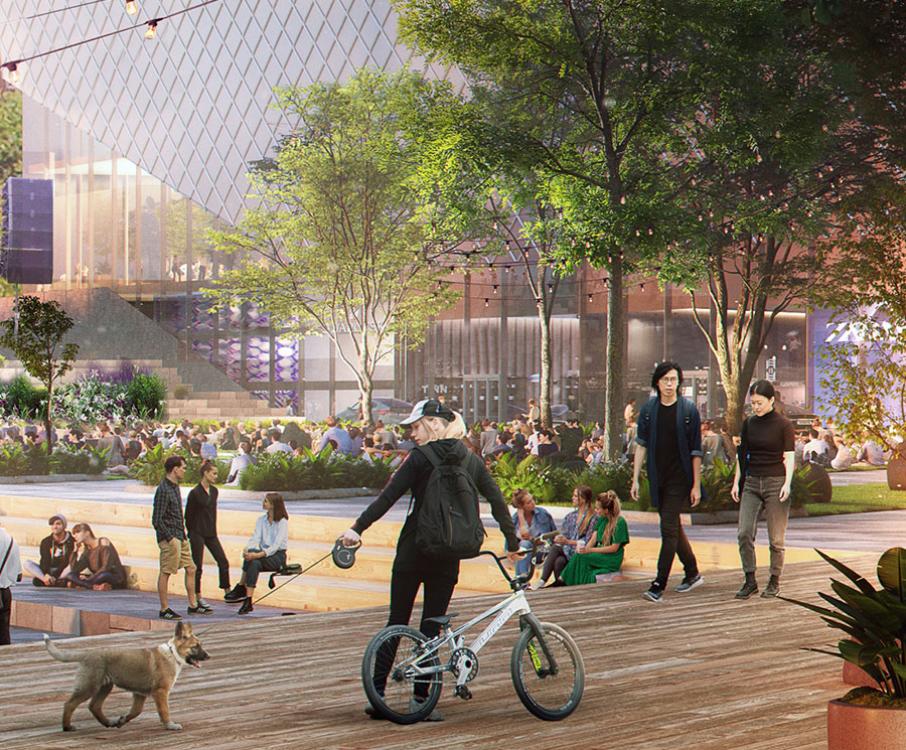 Green and open space
Public green and open space is a principal design element throughout The 78. More than 40% of the acreage at The 78 is green or public open space. A half-mile, 100-foot-wide swath of land will be dedicated to all-season recreation and will connect The 78 to downtown and Chinatown, and Ping Tom Park.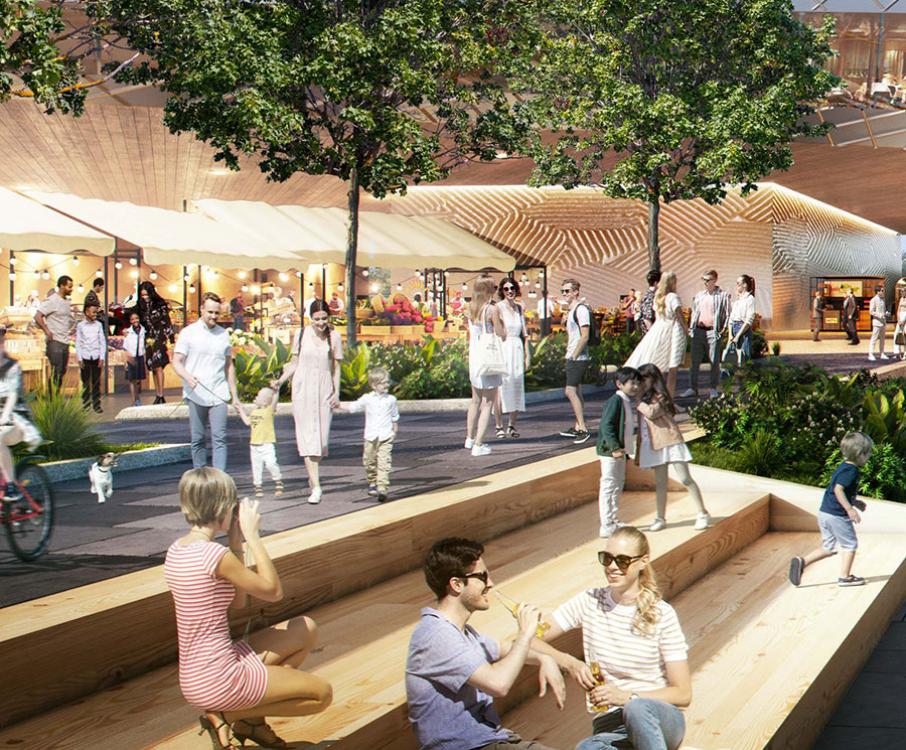 Grand Stairs
The Grand Stairs descend from Roosevelt Road creating a pedestrian link to the riverfront. Steps cascade around the base of the Observation Tower providing numerous and varied spaces for outdoor dining, gathering and riverfront activations.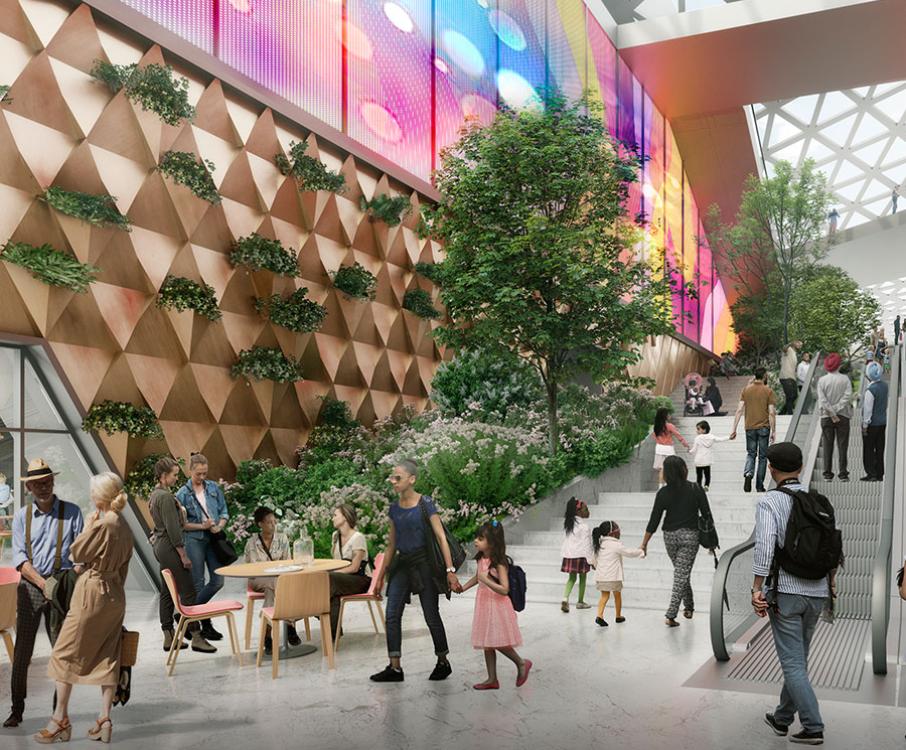 Winter Garden
A cascading Winter Garden will bisect the Casino building and step down to the Riverfront Plaza and waterfront promenade. The Winter Garden provides visitors an alternative indoor public space. It will be open year-round, publicly accessible and architecturally memorable.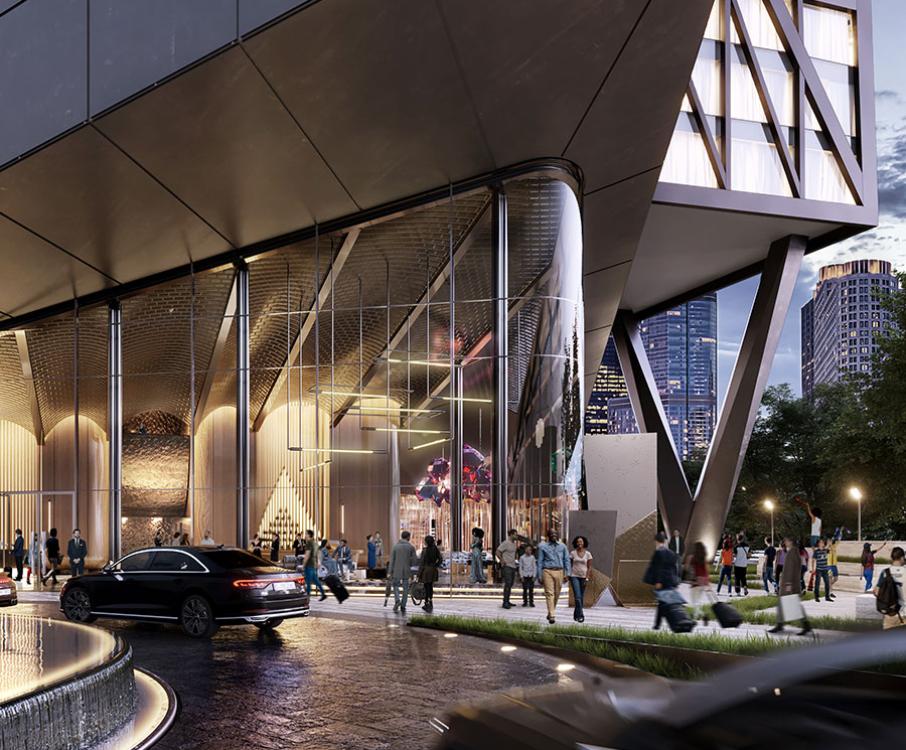 Luxury Hotel
Rivers 78 will feature an iconic, 300 key, 4+ star Equinox-branded hotel located on the Gateway Plaza. Travelers will enjoy ample outdoor gathering and dining spaces, a restaurant and signature views of Lake Michigan and the skyline from a rooftop bar and restaurant.
A Collection of Districts
Our plan for The 78 is comprised of five complementary districts: 
Anchored by the Casino and Hotel, the Entertainment District establishes the northern neighborhood, attracting visitors to a rich network of public spaces and amenities.
Every great neighborhood needs a Residential District. The 78 is no different. This will form The 78's urban core.
Home to the Discovery Partners Institute, the Innovation District will propel Chicago's future as a global leader in technology.
The Cultural Ribbon, a one-half mile promenade along the Chicago River, will form the southern cornerstone of the Chicago River experience.
Harbor Hall is the main public gathering place of The 78's northern district, and the intersection of green networks and the riverfront promenade.
At the Convergence of Chicago's Many Cultures and Communities
The 78 will link six existing neighborhoods —the Loop, South Loop, Pilsen, Chinatown, Bronzeville and Bridgeport — bringing them closer to downtown through the new Wells-Wentworth Connector and the Chicago River in a respectful and thoughtfully-integrated way. Because everyone has a story, The 78 is poised to welcome people of every stripe, and engage them in a myriad of ways, at every turn, and on nearly every level.